The Hobby King Quanum DIY FPV Goggle Set with Monitor is a cheap FPV headset but if you use the provided wiring with an external video receiver it ends up a bit cumbersome.
To make it easier to use, I embedded a RX5800 video receiver right in the screen leaching power from an existing regulator.
Leaching power seemed to work fine for a bit but the receiver started to work intermittently. I think it was drawing too much current for the existing regulator. I threw in a LM7805 with a 10uF cap on the input side and 0.1uF cap on the output side. Given the internally mounted receiver and regulator I may need to add more venting but I'll give it a try as is for a bit longer first.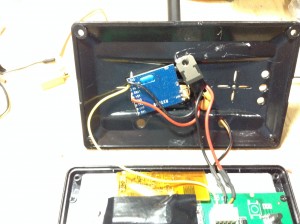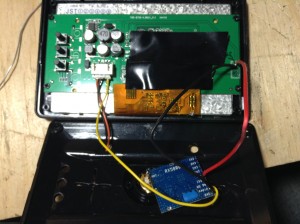 I insulated the screens pcb using some electricians tape and hot glued the video receiver into position.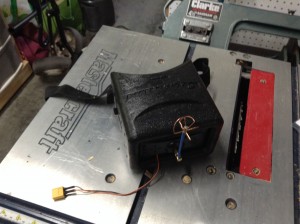 I velcro and strap the battery onto the headstrap (not shown) when in use.